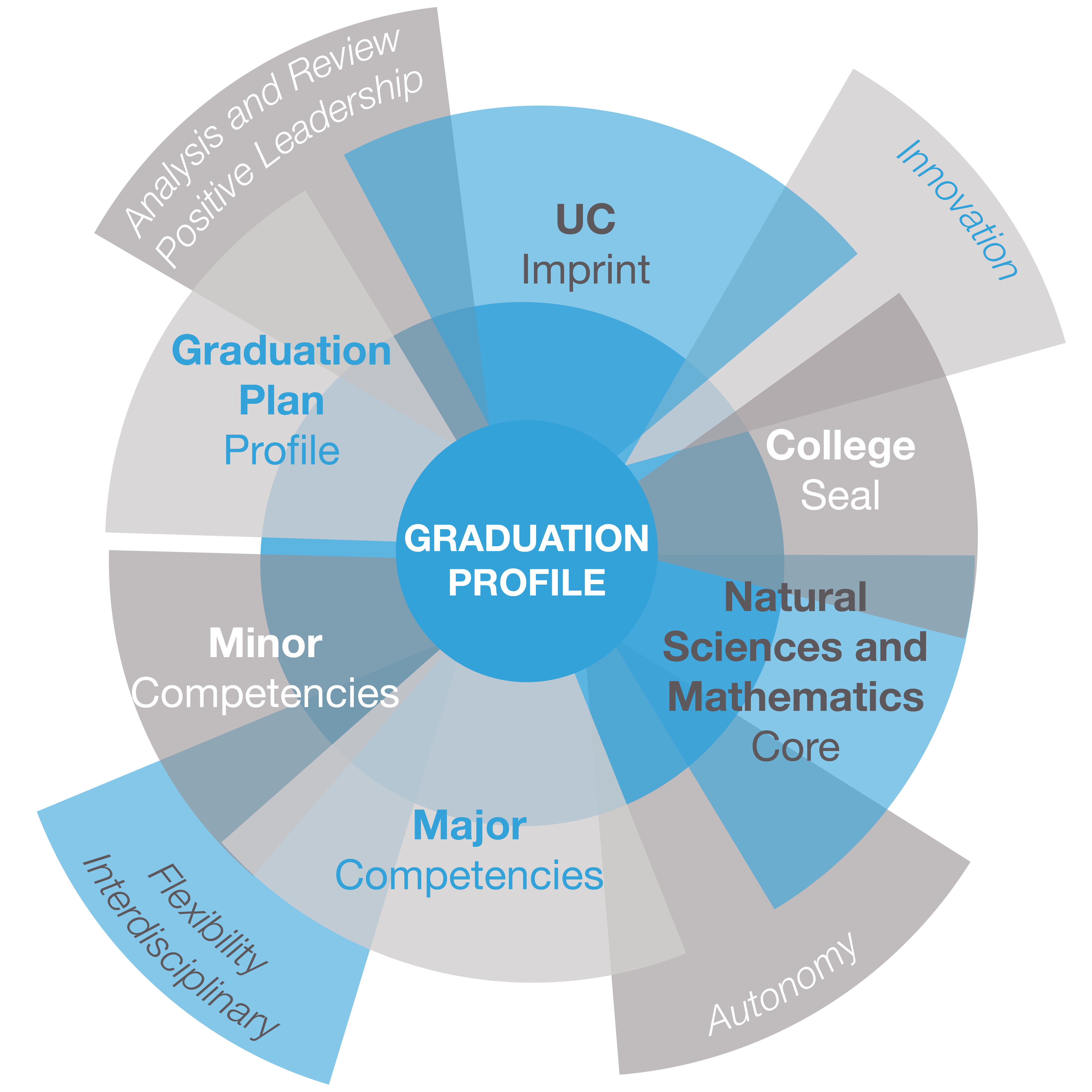 College graduates are professionals from Pontificia Universidad Católica de Chile who received a non-traditional education. This was created to allow a wider range of disciplines to be included in each study program, without lowering the academic and study level.
Therefore, the profile of a graduate of the General Studies Program of Pontificia Universidad Católica de Chile is the sum of the imprint of the university, College, the core of interdisciplinary courses of the corresponding degree and the combination of major and minor concentrations.
UC Imprint
Profesional que busca de manera constante la verdad a través del diálogo entre razón y fe, fundados en nuestra identidad católica. Resguarda y promueve la dignidad de todas las personas, contribuyendo activamente a la construcción de una sociedad que defienda el respeto mutuo y la equidad. Discierne sobre las implicancias éticas de sus decisiones y actúa con integridad. Promueve la ecología integral y sustentabilidad en todos los aspectos de su quehacer. Se aproxima a la realidad de manera interdisciplinaria, con amplitud de miradas y aporta a la solución de problemas de la sociedad con pensamiento crítico, creatividad, colaboración y capacidad de comunicar. Desarrolla su compromiso social y público, junto a una responsabilidad ciudadana para contribuir al bien común. Es experto en sus áreas de conocimiento específico y está inserto en un mundo globalizado.
College seal
Flexible e innovador, posee un enfoque multidisciplinario que promueve el trabajo conjunto con otras áreas, fortaleciendo así el trabajo en equipo necesario para resolver problemas complejos. Gran capacidad de adaptación, autonomía y habilidades en la toma de decisiones. Así también, es una persona reflexiva y con un alto grado de autoconocimiento.
Natural Sciences and Mathematics Core
Posee pensamiento crítico y analítico con sólidas bases científicas que le permiten enfrentar problemas complejos, desarrollar labores de innovación en Ciencia y Tecnología, como también desarrollar investigaciones científicas de alto nivel.
Major
Minor
Professional Graduation Plan